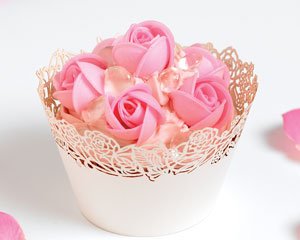 Prep time:

15 min, plus cooling

Cook time:

20 min

Serves:

Makes 12
Ingredients
115 g sugar
115 g butter, softened
115 g self-raising flour
2 eggs
½ tsp rose essence
For the icing
25 g butter, melted
400 g icing sugar
4 tbsp cold water
1 drops natural pink food colouring
To decorate
pink wafer roses
sugar diamonds sweets
edible glitter
Method
1. Ask a grown-up to turn on the oven to 190C/170C fan/gas 5.
2. Mix all the cake ingredients together really well.
3. Put 12 cupcake paper cases into a 12-hole fairy cake tin and spoon the mixture evenly between the cases.
4. Bake for 15 minutes and then ask a grown-up to place them carefully onto a wire rack to cool.
5. When cool, place all of the icing ingredients into a mixing bowl and whisk them together for a few minutes. You might need some help with this.
6. If you are feeling creative and you can find a piping bag, you can fill this up with icing and swirl it onto the cake (it looks SO impressive). Just remember to push the icing right down the bag and hold the top tightly shut, otherwise all the icing will squeeze onto the table, not the cake! Alternatively, spread it on using the back of a teaspoon. A good tip is to dip the spoon into water first – this makes the icing more spreadable.
7. Here's the best bit of all: put the roses and diamonds on the cake and sprinkle with edible fairy glitter just before serving. Place the cake into a cupcake wrapper if you have one then look at the cake sparkle!
Royal Rose Cupcakes

,
(Visited 328 times, 20 visits today)
Comments
comments