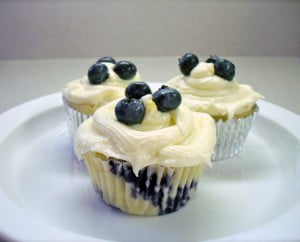 Prep time:

30 min, plus cooling

Cook time:

20 min

Serves:

Makes 12 cupcakes
Ingredients
150 g plain flour
½ tsp baking powder
½ tsp bicarbonate of soda
55 g butter, softened
115 g caster sugar
½ vanilla extract
1 egg, beaten
125 ml buttermilk
100 g blueberries
For the frosting
25 g butter, softened
50 g cream cheese
50 g icing sugar
50 g blueberries, for decorating
Method
1. Pre-heat the oven to 180C/fan 160C/gas 4.
2. Sift the flour, baking powder and bicarbonate of soda together into a bowl.
3. Cream the butter and sugar together until pale and fluffy. Add the vanilla essence, egg and a spoonful of flour and mix.
4. Add a third of the flour along with a third of the buttermilk and mix again. Repeat the process again twice until you have used all the flour and buttermilk.
5. Place 12 paper cupcake cases into a muffin tin and divide the mixture between them. Then divide the blueberries evenly between the cakes scattering them on top of the cake mix (see Cook's Note).
6. Bake for 15-20 minutes until golden and springy to the touch. Remove from the oven, leave them in the tray for 5 minutes, then transfer to a wire rack and cool.
7. For the frosting: in a clean bowl, beat the butter until smooth and creamy, add the cream cheese, mix and then sift in the icing sugar, stirring regularly. The icing should be quite wet.
8. Once the cakes are totally cool, spoon on the frosting allowing it to run down the sides and then decorate with blueberries. Let the frosting set for around 20-30 minutes before eating.
Blueberry Cupcakes

,
(Visited 1,133 times, 39 visits today)
Comments
comments