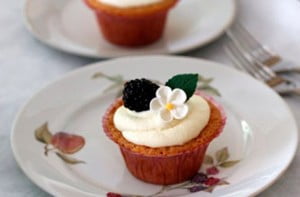 Prep time:

20 mins

Cook time:

30 mins

Serves:

Makes approx 12
Ingredients
150g white chocolate
150g butter
200g golden caster sugar
2 eggs, beaten
140g plain flour
75g self-raising flour
10g cornflour
1 tsp vanilla extract
2 punnets of blackberries
12 sugar flowers
300ml double cream
135ml water
20g sugar flower paste to make the leaves
Green food colouring paste
Method
1. Preheat the oven to 160°C/320ºF/Gas Mark 3 and line the muffin tray with 12 muffin cases.
2. Half fill a saucepan with water, and place a glass bowl over the top of the saucepan (or use a double boiler pan if you have one). Add the butter and 135ml water to the bowl and heat gently until the butter has melted, making sure the bottom of the glass bowl doesn't touch the water, then add the white chocolate and stir until it has melted. Remove from the heat and leave to cool.
3. Sift the flours, cornflour and sugar together in a large bowl.
4. Add the melted chocolate mixture, egg and vanilla extract and stir until all the ingredients are combined.
5. Pour a little batter into the cake cases, add 2 blackberries to each case so they will be in the middle of each cake, and then fill cases to 2/3rds full with the batter. Bake for 25-30 minutes depending on your oven and until a toothpick inserted into the centre of a cake comes out clean or they are springy to the touch.
6. Leave to cool in the tins for 10 minutes before popping them onto a wire rack to cool completely.
7. To make the leaves colour your flower paste green, then use the leaf cutter to cut out 12 leaves and leave on a drying sponge to dry.
8. Whip the cream until just firm (don't overwhip otherwise the cream will lose its smooth finish).
9. Place your piping bag with the tip attached in a tall glass and pull the bag down around the glass. Fill the bag 2/3 full with the whipped cream, pushing the cream down into the bag as you fill.
10. Lift the bag up from around the glass from where the cream stops, pushing all the air up out of the bag. Twist the bag right at the top of the cream and hold the twist between your thumb and forefinger.
11. Pipe a swirl onto each cupcake by applying pressure to the top of the bag. Starting in the centre of each cake and using the edge of the paper as a guide, gradually work the cream upwards into a swirl. When you are finished release the pressure, push down slightly and pull up quickly. After you have finished piping onto each cake, twist the bag again so the twist is always at the top of the cream.
12. Decorate with a blackberry, sugar flower, and a leaf.
White Chocolate and Blackberry Cupcakes

,
(Visited 494 times, 38 visits today)
Comments
comments