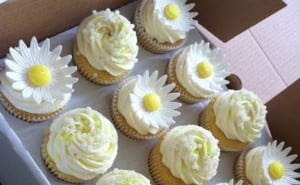 Prep time:

30 mins


Cook time:

20 mins

Serves:

Makes approx 10
Ingredients
For the vanilla cupcakes:
100g of soft margarine
120g of self-raising flour
2tbsp of cornflour
110g of white caster sugar
1tsp baking powder
2 large eggs
1tsp of vanilla essence
For the buttercream frosting:
600g icing sugar sifted
200g unsalted butter
80g cocoa powder
80ml whole milk
5 or 7 star nozzle
Method
1. Preheat the oven to 170°C (325°F) gas 3.
2. Put all ingredients in a kitchen mixer and mix until light and fluffy using paddle attachment.
3. Mix for approx 1 min or so.
4. Spoon into 10 paper muffin cases in a muffin tin and bake for 20 mins until the cakes feel light and spongy to the touch. Leave to cool for 2 mins in the tin and then remove and place on a cooling rack.
5. Occasionally I fill the centres with strawberry jam before putting buttercream on top, by using a knife to cut out a small cavity in the top of each cupcake and filling it with jam.
6. To make the buttercream: Put all the above frosting ingredients in your mixer and mix on slow for 2 mins then once the mixture has started to come together, mix on a high speed for approx 5 mins.
7. Put the buttercream into a large piping bag with a 5 or 7 star nozzle and pipe onto top of cupcakes.
8. Decorate with edible sprinkles and shop-bought daisy cake toppers.
Vanilla Cupcakes

,
(Visited 5,271 times, 74 visits today)
Comments
comments