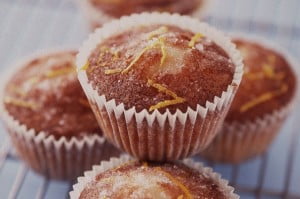 Prep time:

20 min

Cook time:

20 min

Serves:

Makes approx 12
Ingredients
    175g (6oz) butter, softened
175g (6oz) golden caster sugar
175g (6oz) self-raising flour
5ml (1tsp) baking powder
3 large eggs
30ml (2tbsp) lemon curd
100g (4oz) sultanas
For the topping:
100g (4oz) granulated sugar
Juice and grated rind from 1 lemon
Method
1. Preheat the oven to gas mark 4 (180°C, 350°F). Line a 12-hole muffin tray with paper cake cases.
2. Place the butter, sugar, flour, baking powder and eggs in a large bowl and whisk with an electric whisk until thoroughly blended, pale and creamy. Fold in the lemon curd and sultanas.
3. 3 Divide the mixture between the muffin cases and bake for 15-20 mins until risen and golden brown. While the cakes are baking, mix the topping ingredients together in a bowl.
4. 4 Remove the cakes from the oven and leave for 1-2 mins, then spoon some of the topping over each cupcake. Leave to cool in the tray. The sugar topping will go crisp on cooling.
Sultana and Lemon Cupcakes

,
(Visited 1,535 times, 88 visits today)
Comments
comments