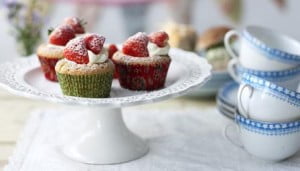 Less than 30 mins

preparation time
10 to 30 mins

cooking time
Makes 24 cupcakes
Ingredients
200g/7oz unsalted butter, softened
200g/7oz caster sugar
4 free-range eggs
200g/7oz self-raising flour
4 tbsp good-quality strawberry jam
250ml/9fl oz lightly whipped double cream
250g/9oz strawberries, hulled
icing sugar, for dusting
Preparation method
Preheat the oven to 200C/400F/Gas 6. Line two 12-hole muffin trays with paper cases.
Cream the butter and sugar together, preferably with an electric whisk, in a large bowl until the mixture is light and fluffy. (This can take 5-7 minutes, so this stage should not be rushed.)
Beat in the eggs, one at a time, until well combined. (If the mixture looks like it is curdling add a spoonful of the flour.) Fold in the remaining flour with a metal spoon until you have a soft, smooth mixture.
Pipe or spoon the mixture into the paper cases until half full, add half a teaspoon of jam and then cover with the remaining cake mixture. The finished cake case should be about three-quarters full. Bake in the oven for 12-15 minutes, or until the cakes are pale golden-brown and spring back when pressed gently with a finger. Remove the cakes from the oven and set aside to cool on a wire rack.
Using a small knife make a well in the top of each cake by removing a disk of cake. Fill this well with whipped cream and top with a strawberry. Serve with a generous dusting of icing sugar.
(Visited 308 times, 28 visits today)
Comments
comments