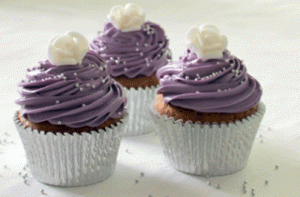 Prep time:

30 mins


Cook time:

20 mins

Serves:

Makes approx 12
Ingredients
For the cakes
150g butter, softened
150g caster sugar
140g self-raising flour
10g cornflour
3 medium eggs
2tbsp milk
Few drops vanilla extract
1tsp ground ginger
¼tsp ground cloves
½tsp ground cinnamon
For the rhubarb filling
400g rhubarb, chopped into 2cm chunks
200g caster sugar
36 pieces of crystallised ginger
For the cream cheese frosting
60g unsalted butter
120g cream cheese
1 tsp vanilla extract
480g icing sugar
Purple food colouring (Victoria used Sugarflair's Aubergine)
Roses and sprinkles to decorate
Method
1. Preheat your oven to 160°C/325°F/Gas Mark 3 and line a 12-hole muffin pan with cupcake cases.
2. Cream the butter and sugar in a large bowl with an electric beater until pale and fluffy, then add the vanilla and beat again.
3. Sieve the flour and the spices together.
4. Add the eggs to the creamed butter and sugar one at a time along with 1/3 of the sieved flours and spices. Mix until just combined. Repeat until all the eggs and flour are combined.
5. Fill the cases to 2/3 full using an ice cream scoop to get an even amount of cake batter in each case, and bake in the oven for about 20 minutes or until the cakes are springy to the touch.
6. To make the frosting, add all the ingredients including the food colour into a bowl and beat for 4 minutes until smooth and shiny. Cover and leave to one side.
7. Remove the cakes from the oven and cool in the tins for 10 minutes, then turn out onto a cooling rack to cool completely.
8. Place the rhubarb and the sugar in a pan over a gentle heat, give it a stir then leave to simmer for 15 minutes or until the nice pink colour and the rhubarb has softened and broken up.
9. Place the rhubarb in a sieve to drain the juice away (otherwise the juice will make the cakes soggy).
10. Cut a well in the centre of each cake with a sharp knife and add 2tsp of the rhubarb mix along with 3 pieces of crystallised ginger to each cake. Then place the tops back on the cakes.
Decorating the cakes
1. Attach the nozzle to the piping bag. Place the piping bag into a large glass (pint glasses or tall picnic glasses are great) and pull the bag down around the glass. Fill the bag 2/3 full by pushing the cream cheese frosting down into the bag as you fill, then lift the bag up from around the glass.
2. From where the cream cheese frosting stops, push all the air up out of the bag and twist the bag right at the top of the cream cheese frosting, and hold the twist between your thumb and forefinger.
3. Pipe a swirl by applying pressure to the top of the bag, and squeezing to pipe a star in the centre of the cakes. Then applying pressure again, pipe around the star using the edge of the cupcake case as a guide and gradually work your way up into a swirl.
4. When you are finished, release the pressure, push down slightly and pull up quickly. After you have piped a cupcake, twist the bag again so the twist is always at the top of the cream cheese frosting. Pipe a swirl by applying pressure to the top of the bag.
5. Decorate with white roses and sprinkles.
Rhubarb and Ginger Cupcakes

,
(Visited 2,312 times, 79 visits today)
Comments
comments