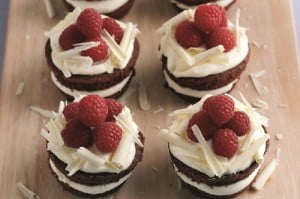 Prep time:

30 min

Cook time:

15 min

Serves:

Makes approx 12
Ingredients
Little oil for greasing
25g cocoa
3 tablespoons boiling water
175g soft margarine
175g caster sugar
150g self-raising flour
Half teaspoon baking powder
3 eggs
To finish:
300ml double cream
100g white chocolate curls
250g raspberries
Method
1.Preheat the oven to 180°C/356°F/ gas mark 4. Lightly brush the insides of a 12 section deep muffin tin with a little oil and line the base of each one with a circle of greaseproof or non-stick baking paper.
2.Put the cocoa into a small bowl, mix in the boiling water until a smooth paste then leave to cool.
3.Put the margarine, sugar, flour and baking powder into a mixing bowl, add the cocoa paste and the eggs and beat until smooth. Divide the mixture evenly between the sections of the muffin tin, smooth the tops level then bake for 12-15 minutes until well risen and the tops spring back when lightly pressed with a fingertip.
4.Leave for five minutes then loosen the edges with a knife, turn out on to a cooking rack and peel off the paper.
5.Whip the cream in the rinsed and dried mixing bowl until it forms soft swirls. Split the cakes in half then sandwich back together with cream, spreading the remainder on top. Arrange the raspberries in the centre of each cake then sprinkle the chocolate curls around the edge to make a nest. Arrange on a plate to serve.
TIP: To make chocolate curls, unwrap a block of white chocolate and turn over so the underside is uppermost on a chopping board. Run a swivel bladed vegetable peeler along the edge to make curls. If the curls are very tiny, put the chocolate on a plate and microwave on full power for 10 seconds to soften the chocolate then try again. If it is still difficult microwave once more and then try.
Raspberry Chocolate Cupcake Nests

,
(Visited 441 times, 42 visits today)
Comments
comments