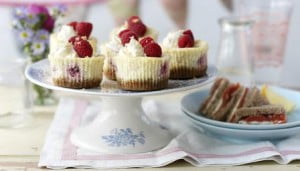 Less than 30 mins

preparation time
Over 2 hours

cooking time
Makes 8 cupcakes
Ingredients
8 white chocolate cookies
45g/1¾oz butter, melted
For the filling
300g/10½oz cream cheese
1 tbsp plain flour
90g/3¼oz caster sugar
1 tsp vanilla extract
1 free-range egg, plus 1 egg yolk
3 tbsp soured cream
100g/3½oz raspberries
lightly whipped double cream or crème fraîche, to serve
Preparation method
Preheat the oven to 180C/350F/Gas 4. Line a muffin tin with eight muffin cases.
Blend the cookies in a food processor until they resemble fine breadcrumbs. (You can also do this by placing them in a plastic bag and bashing with a rolling pin).
Stir in the melted butter until well combined. Press the mixture into the base of the paper cases, reserving a tablespoon to garnish.
For the filling, beat the cream cheese in a bowl until smooth, then stir in the plain flour, caster sugar, vanilla extract, egg and egg yolk and soured cream and beat until the mixture is light and fluffy.
Put a few raspberries in the bottom of each case, reserving some for garnish, then spoon the cream cheese mixture on top.
Bake in the oven for 20-30 minutes, or until the cheesecake filling is set, but still slightly wobbly in the middle.
Remove the cupcakes from the oven and set aside to cool for 30 minutes. Remove the cupcakes from the tin, transfer to a plate and chill in the fridge for at least an hour, or overnight.
To serve, carefully peel off the paper cases and top the cupcakes with a spoonful of whipped cream and a few raspberries. Sprinkle over the reserved biscuit mixture.
(Visited 443 times, 28 visits today)
Comments
comments