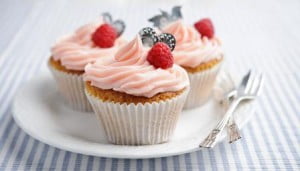 Less than 30 mins

preparation time
30 mins to 1 hour

cooking time
Makes 12
Ingredients
For the cupcakes
180g/6oz butter, softened
180g/6oz caster sugar
180g/6oz plain flour
1 heaped tsp baking powder
3-4 tbsp milk
2 free-range eggs
150g/5oz raspberries
For the icing
125g/4oz butter, softened
250g/8oz icing sugar
1 tbsp milk
small drop red food colouring
12 raspberries
Preparation method
Preheat the oven to 180C/350F/Gas 4. Line a 12-hole muffin tin with paper cases.
Place all of the cupcake ingredients, except the raspberries, into a food processor and mix until well combined. Add more milk, if necessary, to get the mixture to a soft drop consistency.
Put one spoonful of the mixture into the cases, then follow with 2-3 raspberries, and another spoonful of mixture.
Bake for 15-20 minutes, or until risen and golden-brown. Remove from the oven and set aside to cool for 10 minutes.
Meanwhile, for the icing, beat the butter in a bowl until light and fluffy. Carefully stir in the icing sugar and continue to beat for five minutes. Beat in the milk and food colouring.
Decorate the cupcakes with the icing and top each cupcake with a raspberry.
(Visited 377 times, 19 visits today)
Comments
comments