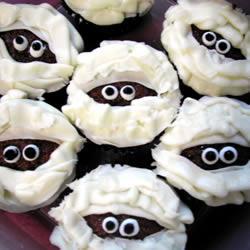 Prep time:

25 min

Cook time:

15 min

Extra

time:

20 min

Serves:

Makes approx 16
Ingredients
1 recipe chocolate fairy cakes
1 recipe buttercream icing
32 chocolate chips
Method
1. Prepare the choc fairy cakes according to recipe (or use your favourite chocolate fairy cake recipe!).
2. Prepare the icing according to the recipe (or use your favourite recipe, or even shop bought. I've also used cream cheese icing for these cupcakes).
3. Place the icing in an icing bag or a plastic bag with the corner cut off. Pipe the icing onto the cooled cupcakes as pictured, leaving an eye shape in the middle. In the middle of the exposed eye shape on each cupcake, pipe two dots in the middle for the mummy's eyes. Place chocolate chips flat side up in the middle of each dot for pupils.
Mummy Cupcakes

,
(Visited 507 times, 50 visits today)
Comments
comments