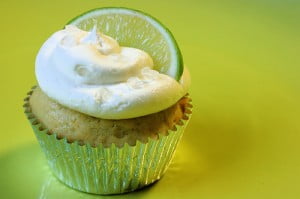 Prep time:

30 min

Cook time:

20 min

Serves:

Makes approx 24
Ingredients
For the cupcakes
250 g unsalted butter, soft
250 g caster sugar
4 eggs, room temperature
250 g self-raising flour
For the frosting
250 g unsalted butter, soft
550 g icing sugar
For the mojito flavouring
75 ml white rum
2 tbsp light soft brown sugar
2 limes, juice of
mint leaves, to decorate
Method
1. For the cupcakes: heat the oven to 180C/160C fan/gas 4. In a mixer, combine the butter and sugar. Once this is fluffy, add 4 eggs one by one.
2. Add the flour and once this has all mixed up, spoon into cupcake cases and bake for 17 minutes.
3. Once they are firm but springy to the touch, remove from the oven and allow to cool.
4. When they have cooled, brush white rum on top of each cupcake using a pastry brush. Repeat twice, allowing the rum to soak into the sponges.
5. Brush fresh lime juice onto each cake, allowing the juice to soak into the sponge. Finish by sprinkling the brown sugar onto each sponge. This will dissolve as it makes contact with the rum and lime juice.
6. For the frosting: in a bowl, combine the butter with 500g of the icing sugar and once this has mixed well, add the remaining rum and lime juice.
7. Blend for 3 minutes, and then if it is too runny, add an extra 50g of icing sugar.
8. Either spoon onto the cooled sponges or pipe with a nozzle and piping bag. Finish off with a slice of lime and a sprig of mint.
(Visited 795 times, 23 visits today)
Comments
comments