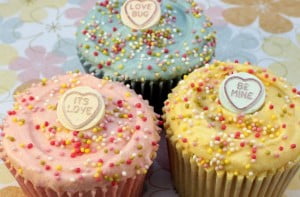 Prep time:

40 mins

Cook time:

30 mins

Serves:

Makes approx 12
Ingredients
For the cakes:
150g unsalted butter (room temperature)
150g caster sugar
130g self-raising flour
20g cornflour
1 tsp vanilla extract
2 tbsp milk (room temperature)
3 eggs
For the icing:
110g butter
500g icing sugar
2 tbsp of milk
1 tsp of vanilla extract
Red, yellow blue food colour paste
2 packets of love heart sweets
You will also need:
Muffin tray
12 cupcake cases
Palette knife
Freezer bag and rolling pin
Method
1. Preheat your oven to 160°C/320°F/Gas Mark 3 Place 12 cases in your muffin tin.
2. Beat the sugar and butter with the vanilla essence until light a fluffy (about 5 minutes)
3. Add 1 egg, 1 third of the flour and a splash of milk and beat until just combined and repeat until all the ingredients are combined.
4. Divide the batter between the 12 cases and bake for 20-25 minutes depending on your oven. Remove from the oven and cool in the tins for 10 minutes before moving to a wire cooling rack
5. For the icing: Place the butter, icing sugar, vanilla and milk in a large bowl and mix using an electric whisk for about 5 minutes.
6. If you would like the buttercream pastel colours, divide into three and colour pink, yellow and blue with a touch of colour paste.
7. Take the pink Love Hearts out of a packet of Love Hearts and crush them to powder with a rolling pin, then fold it into the pink icing, do the same with the yellow and white love hearts for the blue topped cakes (you can mix up colours and flavours).
8. With a palette knife, spread the icing over the tops of the cooled cakes, decorate with sprinkles and using the other packet of love hearts add one to the top of each cake.
Love Heart Cupcakes

,
(Visited 597 times, 29 visits today)
Comments
comments