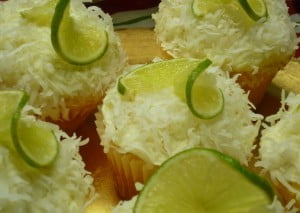 Prep time:

30 min

Cook time:

25 min

Serves:

Makes approx 12
Ingredients
190g sifted plain flour
1 1/2 teaspoons baking powder
1/4 teaspoon salt
200g caster sugar
120ml virgin coconut oil
3 tablespoons lime juice
1/2 tablespoon lime zest
1 teaspoon vanilla extract
2 eggs
120ml milk
Icing:
110g cream cheese, softened
4 tablespoons virgin coconut oil
1/2 tablespoon lime juice
1/2 teaspoon lime zest
200g icing sugar
75g desiccated coconut
Method
1. Preheat the oven to 180 C / Gas 4. Grease a 12-hole muffin tin or line with paper cases.
2. Combine flour, baking powder and salt.
3. In a large bowl combine the sugar and 120ml coconut oil. Beat on medium speed until light and airy, about 3 to 4 minutes. Add the 3 tablespoons lime juice, 1/2 tablespoon lime zest and vanilla. Add eggs one at a time, beating well after each addition.
4. With the mixer on low speed, add 1/3 of the flour mixture, then 1/2 the milk, then another 1/3 of the flour, then the last 1/2 the milk, and finally the last 1/3 of the flour mixture. Mix only until the the last flour addition is just incorporated. Do not overmix.
5. Pour cake mixture evenly into tin, about 2/3 full. Bake in the preheated oven for 20 to 25 minutes, or until tops bounce back when touched lightly. Cool cupcakes completely before icing.
For the icing:
6. Beat the cream cheese and 4 tablespoons coconut oil until combined and creamy. Mix in the 1/2 tablespoon lime juice and 1/2 teaspoon lime zest. Gradually stir in icing sugar. Ice cupcakes.
7. For the coconut topping, stir and cook the desiccated coconut in a medium non-stick frying pan over medium heat until lightly toasted. Remove from pan to cool. Once cool, top cupcakes with toasted coconut, pressing in lightly. Garnish with a slice of lime if desired.
(Visited 715 times, 29 visits today)
Comments
comments