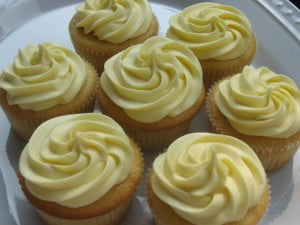 Prep time:

25 min, plus cooling

Cook time:

10 min

Serves:

makes 12 cupcakes
Ingredients
125 g butter, softened
125 g caster sugar
1/2 large lemon, finely grated zest only
2 eggs, beaten
150 g plain flour
1/2 tsp baking powder
For the lemon butter icing
75 g butter, softened
175 g icing sugar, sifted
1/2 large lemon, finely grated zest only
1-2 tsp freshly squeezed lemon juice
12 crystallised flowers, (optional)
Method
1. Preheat the oven to 180C/gas 4. Line a 12-hole fairy cake tin with paper cases.
2. Cream the butter in a large bowl until soft. Add the sugar and grated lemon zest and beat until the mixture is light and fluffy. Gradually add the beaten eggs, then sift in the flour and baking powder and fold into the mixture. Alternatively, whiz all the ingredients together in an electric food mixer.
3. Divide the mixture between the paper cases and bake in the preheated oven for 7–10 minutes, until risen and golden. When cooked, the centre of each cake should be slightly springy to the touch. Remove the cakes from the tin and put on a wire rack to cool before you ice them.
4. For the lemon butter icing, cream the butter in a bowl with a wooden spoon or hand-held electric beater until very soft. Gradually add the icing sugar and beat into the butter, along with the lemon zest and enough lemon juice to soften the icing to a spreadable consistency.
5. When the cupcakes are cool, spread a generous heaped teaspoon of lemon butter icing over the top of each one. Decorate with the crystallised flowers (if using).
(Visited 1,190 times, 21 visits today)
Comments
comments