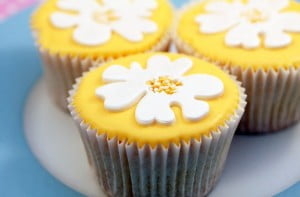 Prep time:

10 mins

Cook time:

25 mins

Serves:

Makes approx 12
Ingredients
150g self-raising flour
150g golden caster sugar
115g unsalted butter at room temperature
2 eggs
½ tsp vanilla extract
2 tblsp of fresh lemon juice
Zest of 1 lemon
80ml buttermilk
¼ tsp baking powder
4 tblsp lemon curd
For the toppings:
150g icing sugar
150g fondant
2 tblsp lemon juice
Yellow food colour
Sprinkles of your choice
Method
1. Preheat the oven to 160°C/320°F/Gas Mark 4 and line your muffin tray with paper cases.
2. Add the zest and lemon juice to the buttermilk and leave to one side.
3. Cream the butter and sugar until light in colour and fluffy.
4. Combine the flour with the baking powder. Add the eggs one a time with a third of the flour mix and stir until just combined. Repeat until all the flour and eggs have been added.
5. Add the buttermilk mix and vanilla extract and fold into the mixture until evenly spread throughout the mix.
6. Fill the cases to 2/3rds full (this will leave you enough room for the icing) and bake for 25 mins until golden brown and spring back to the touch. Remove and cool on a wire rack
7. When the cakes are cooled cut out a piece of cake in the middle of the cake and pop a teaspoon of lemon curd in the hole then replace the piece of sponge to fill the hole.
8. For the topping: Roll the fondant and cut 12 large flowers. Using the small cutter, cut the centres out of the large flowers. Leave to dry on parchment paper.
9. Mix the lemon juice into the icing sugar a little at a time until you have a thick shiny paste. Add the yellow colouring and mix again.
10. Spread a thin layer over the tops of the cooled cupcakes and pop a flower on top – do this straight after icing each cake otherwise the surface will crack once it's set.
11. Add sprinkles to the centres of each flower and leave to set.
Lemon Cupcakes

,
(Visited 882 times, 23 visits today)
Comments
comments