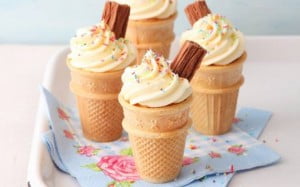 Prep time:

45 min

Cook time:

25 min

Serves:

Makes approx 12
Ingredients
12 wafer cup cornets
125g (41/2 oz) unsalted butter, softened
125g (41/2 oz) caster sugar
1 vanilla pod, cut in half and seeds reserved
2 eggs
125 g (41/2 oz) self-raising flour
3 tbsp milk
To decorate
1 quantity buttercream
multi-coloured sugar strands
3 Flake bars, each cut into 3 lengths
Equipment
disposable piping bag
large star nozzle
Method
1. Preheat the oven to 190/Gas Mark 5.
2. Stand the cornets in a 12-hole muffin tin − one in each muffin hole.
3. Whisk the butter, sugar and vanilla seeds together using an electric hand whisk or beat with a wooden spoon until pale and creamy. Gradually whisk in the eggs until just combined. Add the flour and milk and whisk again until combined and fluffy.
4. Divide between the cornets and bake in the oven for 20−25 minutes until golden and risen. Leave to cool in the tin for 5 minutes, then transfer to a wire rack to go cold.
5. Put the buttercream into a piping bag with a large star nozzle. Pipe a large swirl, just like a Mr Whippy, on to the top of each cupcake.
6. Scatter over the sugar strands and finish each with a piece of Flake.
Ice Cream Cone Cupcakes

,
(Visited 811 times, 37 visits today)
Comments
comments