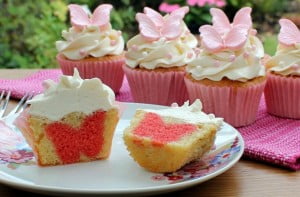 Prep time:

1 hr 20 mins

Cook time:

1 hr

Serves:

Makes approx 12
Ingredients
For the pink cake (You need to make a 7/8" square cake for the butterflies)
75g caster sugar
75g butter, room temperature
70g self-raising flour
5g cornflour
2 medium eggs
15ml milk
1 tsp vanilla extract
1-2tsp red food colouring
For the cupcakes
150g butter, room temperature
150g caster sugar
150g self-raising flour
3 medium eggs
30ml milk
1tsp vanilla extract
For the reduced sugar buttercream
240ml milk
60g plain flour
Pinch of salt
110g vegetable fat such as Trex
110g unsalted butter
220g caster sugar
1tsp vanilla extract
You will also need:
Deep muffin tray
7 or 8" square cake pan
5cm x 3cm butterfly cookie cutter
To decorate (optional)
Butterfly mould with 75g flower paste and red food colouring
Piping bag and a Wilton 1B nozzle
Pink and pearly sprinkles
Method
1. Preheat your oven to 160°C/320°F/Gas Mark 3 and grease your tin.
2. To make the pink sponge, add all the ingredients into a large mixing bowl and mix on a medium speed until smooth. Add in 1 tsp of food colouring at a time to get your desired pink colour. If you want a darker colour add an extra 1 tsp.
3. Place all the mixture into the square pan and level out with a spatular.
4. Bake in the oven for 20 mins remove and cool in the tray for 10 mins before cooling on a wire rack. Once cool pop in the fridge to harden it slightly to make it easier to cut the shapes out.
5. Remove the square sponge from the fridge and cut out 12 butterflies with your butterfly cookie cutter.
6. Line your muffin tray with your muffin cases.
7. Place all the ingredients for the cupcakes into a large mixing bowl and mix until smooth. Place 2 tbsp of mixture into the bottom of each case.
8. Place a butterfly piece of sponge in the centre of the batter and then divide the remaining mixture over the tops of the butterflies, making sure you get the mixture between the wings.
9. Mark each case so you know which way is forward, as you'll need to know which way to slice to see the shape.
10. Bake in the oven at 160°C/320°F/Gas Mark 3 for 25 mins. Remove from the oven and cool.
11. To make the buttercream, heat the milk in a small saucepan, over a gentle heat. Whisk the flour and salt into the milk and continue to heat gently, while whisking continuously to avoid lumps, until the mixture takes on a thick pudding-like consistency. Leave to cool for 30 minutes.
12. In a separate bowl, cream the vegetable fat, sugar, butter and vanilla until light and fluffy.
13. When the flour mixture has cooled, add it to the creamed vegetable fat and butter mix one spoon at a time, beating with an electric whisk until all the mixture has been added. It will be very light in texture and quite white when it's ready. Cool in the fridge for 15 minutes, this helps stiffen it slightly so it's ready to pipe.
14. If you want an icing swirl, add a Wilton 1B to a large piping bag and pipe a swirl.
15. To make the butterfly toppers, colour the fondant with the food colouring and add to the moulds and leave to dry on a large sponge or folded tin foil. Add a butterfly and sprinkles to each cake.
(Visited 625 times, 18 visits today)
Comments
comments