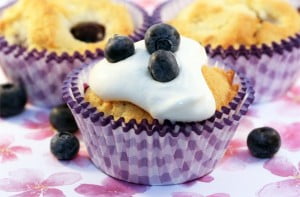 Prep time:

10 min

Cook time:

30 min

Serves:

Makes approx 12
Ingredients
150g ground almonds
150g unsalted butter
150g icing sugar
100g gluten-free plain flour
5 medium egg whites/10 tbsp of liquid egg white
200g punnet of blueberries
Zest of 1 lemon
60ml creme fraiche
Method
1. Preheat the oven to 180°C/350°F/Gas Mark 4 and line the a 12-hole muffin tin with cupcake cases.
2. Melt the butter in the microwave for about a minute and leave to one side to cool. Sift the flour, icing sugar and almonds into a large bowl and add the lemon zest.
3. Whisk the egg whites until frothy and add to the flour, sugar and almond, then stir in the cooled melted butter.
4. Fold the blueberries into the mixture, reserving a few for decoration.
5. Divide the mix between the cases and bake for 25-30 minutes depending on your oven.
6. Test the cupcakes by inserting a toothpick to see if they are baked, if the toothpick comes out clean and they are golden on top, they are ready. Cool in the tins for 5-10 minutes then cool completely on a wire rack. Serve with a dollop of crème fraiche and top with a couple of blueberries.
(Visited 367 times, 24 visits today)
Comments
comments