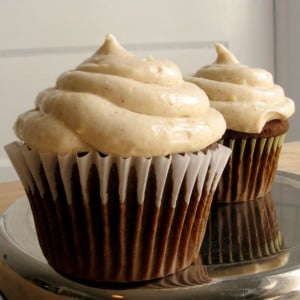 Prep time:

35 min

Cook time:

25 min

Serves:

Makes 12 cupcakes
Ingredients
150 g butter, room temperature
150 g soft brown sugar
3 eggs
150 g self-raising flour
1 tsp ground ginger
½ tsp ground cinnamon
pinch freshly grated nutmeg
1 tbsp milk
For the frosting
200 g butter, at room temperature
50 g soft brown sugar
3 tbsp milk
200 g icing sugar
pinch ground cinnamon
Method
1. Preheat the oven to 180C/160C fan/ gas 4.
2. Cream together the butter and sugar until light and fluffy.
3. Sift the flour together with the spices.
3. Gradually mix the eggs into the creamed butter and sugar alternating with the flour to stop the mix from curdling. Finally, stir through the milk.
4. Place 12 paper cupcake cases into a muffin tin and divide the mixture between them.
5. Bake for 15-20 minutes until golden and springy to the touch. Remove from the oven and cool on a wire rack.
6. For the frosting: while the cupcakes are cooking place 50 grams of the butter in a pan with the brown sugar and cook over a low heat until melted. Add 2 tablespoons of the milk and stir to form a thick glossy toffee sauce. Leave to one side to cool to room temperature.
7. In a large mixing bowl beat the butter until smooth, then start to sift in the icing sugar, stirring regularly. Add the toffee sauce and stir until thoroughly incorporated. Add a splash more of milk if the mixture seems too thick – the frosting should be light and creamy.
8. Put the frosting in a piping bag and pipe onto the cupcakes. Sprinkle with ground cinnamon before serving.
(Visited 2 times, 1 visits today)
Comments
comments