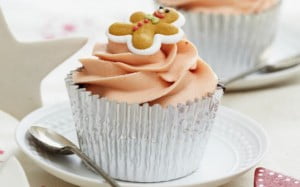 Prep time:

30 mins

Cook time:

20 mins

Serves:

Makes approx 12
Ingredients
For the gingerbread cupcakes:
75g unsalted butter, softened
100g caster sugar
125ml black treacle
1 large egg (we used a Large Baking Egg)
1 large egg yolk (we used a Large Baking Egg yolk)
175g all-purpose flour, or plain flour
1tbsp cocoa powder
1 1/4tsp ground ginger
1tsp ground cinnamon
1/2tsp ground allspice
1/2tsp ground nutmeg
1/4tsp salt
1tsp baking soda
125ml cup hot milk
For the buttercream:
120g butter, softened
200g icing sugar, sifted
1tsp vanilla extract
2tbsp milk
You'll also need:
12-hole muffin tin
12 cupcake cases
Method
1. For the gingerbread cupcakes: Preheat the oven to 175˚C/350˚F/Gas Mark 4 and line a 12-hole muffin tin with cupcake cases.
2. In a clean, large bowl cream the butter with the sugar. Add the treacle and the egg and egg yolk.
3. In a separate clean, large bowl, sift together the flour, cocoa powder, ginger, cinnamon, allspice, nutmeg and salt.
4. Dissolve the baking soda in the hot milk.
5. Add the flour mixture to the creamed mixture and stir until just combined. Stir in the hot milk mixture.
6. Spoon the batter evenly into the cases.
 Bake for 20 mins or until slightly springy to the touch.
7. Allow to cool for a few mins in the pan and transfer to a wire rack to cool.
8. For the buttercream: Cream the butter in a clean, large bowl until smooth, gradually add the icing sugar and continue to cream until light and fluffy. Add the vanilla and the milk and cream until combined.
9. Use a piping bag to pipe the buttercream onto the cupcakes in an iced-rose design and decorate with a mini, edible gingerbread man.
Gingerbread Cupcakes

,
(Visited 687 times, 29 visits today)
Comments
comments