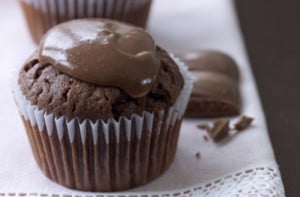 Prep time:

10 min

Cook time:

20 min

Serves:

Makes approx 12
Ingredients
315g (11oz) Galaxy Bubbles (10 bars), finely chopped
200g (7oz) self-raising flour
225g (8oz) light muscovado sugar
2 tbsp cocoa powder
150ml (5 fl oz) sunflower oil
300ml (10 fl oz) sour cream
2 eggs
Galaxy Bubbles, chopped, for decoration
Method
1. Preheat the oven to 180°C (350°F, gas mark 4). Place 12 paper cases into a muffin tin.
2. Place 100g of the Galaxy Bubbles in to a large bowl with the flour, 200g of the sugar, cocoa powder, sunflower oil, 100ml of the sour cream and the eggs.  Whisk together until the mixture is completely smooth.
3. Pour into the paper cases and bake for 20-25 mins until the cakes are springy to the touch. Allow to cool on a wire rack.
4. Place the remaining Galaxy Bubbles, sour cream and sugar into a small pan and melt while stirring occasionally.  Leave to cool until it is very thick then spoon over the cakes. Leave to set.
5. Sprinkle with finely chopped Galaxy Bubbles if you want.
Galaxy Bubble Cupcakes

,
(Visited 1,111 times, 33 visits today)
Comments
comments