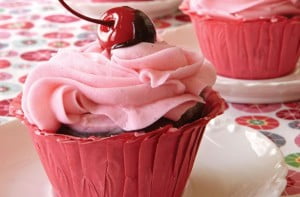 Prep time:

20 min

Cook time:

15 min

Serves:

Makes approx 24
Ingredients
For the chocolate cakes:
1 cup cocoa
2 cups boiling water
1 cup butter, softened
2 cups golden caster sugar
4 large eggs
2 3/4 cups plain flour
1 tsp baking soda
1 tsp baking powder
1/2 teaspoon salt
1 tsp chocolate extract (available from Amazon)
Paper baking cups
Vegetable cooking spray
24 milk chocolate kisses such as Hersheys
For the cherry frosting:
1/2 cup butter, softened
3 tbsp cherry jam or maraschino cherry juice
1/4 cup whipping cream
1/2 tsp almond extract
1/8 tsp salt
16oz icing sugar
For the toppings:
24 red maraschino cherries (with stems)
For the chocolate ganache:
1 cup whipping cream
8oz dark chocolate, chopped
Method
1. Preheat oven to 180°C/350°F/Gas Mark 4. Combine cocoa and 2 cups boiling water in a large heatproof bowl, stirring until blended and smooth. Leave to cool completely.
2. Beat butter with a mixer until creamy; gradually add sugar, beating until blended. Add eggs, 1 at a time, beating until blended after each addition. Combine flour and next 3 ingredients; add to butter mixture alternately with cocoa mixture, beginning and ending with flour mixture. Beat at low speed just until blended after each addition. Stir in chocolate extract.
3. Place paper baking cups in 2 (12-cup) muffin pans, and coat with cooking spray; spoon batter into cups, filling two-thirds full. Bake for 12 to 15 minutes. Do not cool.
4. While cupcakes are still warm, press 1 chocolate kiss into the center of each. Let cool completely.
5. To prepare cherry frosting, beat first 5 ingredients at medium speed with an electric mixer until creamy. Gradually add powdered sugar, beating at low speed until blended. Beat at high speed 2 minutes or until creamy. Makes 3 cups.
6. Fill the piping bag with frosting, attach the metal top and pipe a swirl onto each cupcake.
7. To prepare ganache, cook cream in a heavy non-aluminum saucepan over medium heat, stirring often, just until it begins to steam (do not boil); remove from heat. Place chocolate in a glass bowl. Slowly add hot cream to chocolate, beating with a whisk until chocolate melts and mixture is well blended. The mixture will thicken as it cools. Makes about 2 cups.
8. Dip cherries in Chocolate Ganache, and place 1 on top of each cupcake.
(Visited 454 times, 23 visits today)
Comments
comments