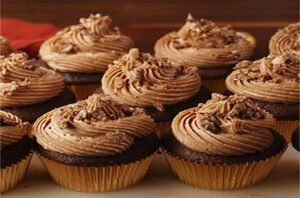 Prep time:
15 mins
Total time:
45 mins
Serves:
Makes approx 12
Ingredients
1 packet of devil's food cake mix, along with the ingredients specified on the box
12 Ferrero Rocher chocolates
225 g of butter
375 g of icing sugar
110 g of Nutella
1 tsp. of vanilla extract
1/2 tsp. of salt
3 tbsp. of double cream (optional, if needed)
Chopped Ferrero Rochers for garnish
Directions
Step 1:
Preheat oven to 180°C (160ºC fan) and line a muffin pan with cupcake liners.
Step 2:
Prepare cake mix according to the instructions on the box. Fill muffin tins 1/4 full with batter and top with a Ferrero Rocher chocolate. Top each with more batter, so that the cupcakes are 3/4 of the way full. Bake 25 minutes, or until no longer wet.
Step 3:
Meanwhile, make buttercream: In a large bowl, beat butter and icing sugar together until light and fluffy. Next beat in Nutella, vanilla extract and salt until smooth and fully combined. If you feel your buttercream is too thick, add cream one tablespoon at a time and beat to combine.
Step 4:
When cupcakes are cooled, pipe on frosting and garnish with chopped Ferrero Rochers. Serve.
————————————————–
---
Free-Samples.co.uk – Receive 8 Fresh Freebies Delivered to Your Inbox Daily!
---
Ferrero Rocher Stuffed Cupcakes

,
(Visited 24 times, 24 visits today)
Comments
comments