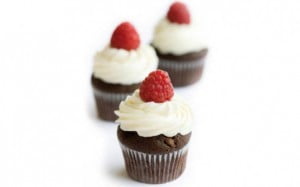 Prep time:

20 mins


Cook time:

20 mins

Serves:

Makes approx 16-18
Ingredients
150g butter
150g caster sugar
175g self-raising flour
25g cocoa powder
3eggs (beaten)
Buttercream topping ingredients
250g butter
500g icing sugar (sifted)
2 drops of vanilla extract
12 raspberries
Some chocolate flakes or chocolate chips
Method
1. Preheat the oven to 180C/Gas Mark 4 and lay out 12 cup cake cases on a baking tray.
2. Using an electric mixer, mix the butter, sugar, flour and cocoa powder in a bowl adding the beaten eggs slowly into the bowl as you are mixing.
3. Using a large spoon place equal amounts of mixture into the 12 cupcake cases. Place in the oven (near the top) and bake for 15 to 20 minutes – until firm to touch.
4. Remove from the oven and leave to cool.
5. Place the butter into a bowl, stir in the icing sugar and vanilla extract using a wooden spoon, then whisk until fluffy.
6. Put the mixture into a piping bag and squeeze plenty onto each cupcake.
7. Sprinkle chocolate flakes or chocolate chips over the top and add a raspberry to finish.
Fearne Cotton Chocolate Cupcakes

,
(Visited 1,245 times, 27 visits today)
Comments
comments