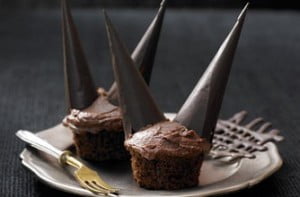 Prep time:

15 mins


Cook time:

20 mins

Serves:

Makes approx 12
Ingredients
For the cupcakes:
155g caster sugar
60g unsalted butter at room temperature
1 large egg at room temperature
½tsp vanilla extract
¼tsp salt
105g plain flour
25g cocoa powder
¼tsp baking soda
95g sour cream
¼ cup strong espresso (cooled)
½tsp fresh ground coffee
4 squares dark chocolate chopped or broken into small chips
For the ganache frosting:
125g dark chocolate
Pinch of salt
50g caster sugar
300ml sour cream
Squeeze of lemon juice
Method
1. To make the cupcakes: Sift all the dry ingredients together (flour, cocoa, baking soda, salt), and set aside.
2. Cream the butter and sugar together with an electric mixer until very light and fluffy. Add the egg and vanilla and beat until thoroughly mixed in.
3.  Add the dry ingredients in 3 parts, alternating with the sour cream. Then slowly add the cooled coffee and espresso powder, and finally stir in the chocolate chips.
4. Use an ice cream scoop to transfer to a lined baking pan – fill the cups ¾ full.
5. Bake in the middle rack of a preheated oven for 20 mins or until a toothpick inserted in the centre comes out clean.Gently melt the chocolate using a double boiler. Remove it from the heat and whisk in the sugar and a pinch of salt. Now add the soured cream and ¼ tsp lemon juice, stirring all the time. Be sure to add the cream before the chocolate has time to solidify. Set this mixture aside.
6. For the chocolate devil's horns: Line horn-shaped tins with non-stick baking paper. Break 80g dark chocolate into pieces and melt in a double boiler, stirring continuously. Using a clean pastry or paint brush, apply a coating of melted chocolate to the inside of each lined tin. Make sure you fill them all the way to the end and leave no cracks. Leave this to cool and then apply another coating to the inside. Set aside or leave in the fridge to firm.
7. Carefully remove the horns from the moulds, peel away the paper and store in the fridge.
8. Ice the cooled cupcakes with the ganache frosting and when you're ready to serve, top with the chocolate horns (2 per cupcake).
Devil's Delight Cupcakes

,
(Visited 1,486 times, 54 visits today)
Comments
comments