Vanilla Cupcakes Recipe
---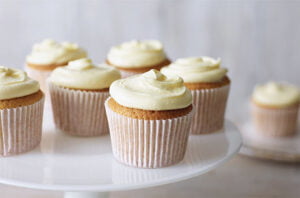 ---
Become a master of the finest cupcake recipe with these delightful and simple vanilla treats. Each cupcake features a fluffy, golden sponge topped with a generous swirl of vanilla buttercream. This easy-to-follow bake will steal the spotlight at any birthday party, afternoon tea, or bake sale.
---
Makes: 12 cupcakes
---
Preparation: 15 minutes
---
Cooking: 25 minutes, plus cooling time 475 calories per serving Vegetarian-friendly.
---
Ingredients:
---
For the cupcakes:
---
200g unsalted butter, softened

200g golden caster sugar

3 medium free-range eggs

2 tsp vanilla extract

200g self-raising flour

1-2 tbsp milk
---
For the icing:
---
160g unsalted butter, softened

300g icing sugar

1 tbsp milk

1 tsp vanilla extract
---
Method:
---
Preheat the oven to gas mark 4, 180°C (160°C fan). Line a 12-hole cupcake tin with paper cases. In a large mixing bowl, combine the butter and sugar. Beat with an electric whisk or wooden spoon for 2-3 minutes until the mixture turns pale and fluffy.

Add the eggs one at a time, beating well after each addition. Pour in the vanilla extract and briefly mix to combine. Gently fold in the flour, adding just enough milk to create a smooth batter that quickly drops off the spoon.

Divide the batter equally among the paper cases. Bake for 20-25 minutes or until a skewer inserted into the middle comes clean. Transfer the cupcakes to a wire rack and allow them to cool completely.

While the cupcakes cool, prepare the buttercream icing. Place all the icing ingredients in a large mixing bowl and beat with an electric whisk for 4-5 minutes until the mixture turns pale and fluffy.

Swirl the delicious buttercream over the cooled cupcakes just before serving. For storage, keep the cupcakes in an airtight container for up to 3 days.
---
Tip: You can leave these cupcakes plain or get creative with decorations. Try topping them with fresh raspberries or strawberries, scattering sugar sprinkles or grated chocolate over them, drizzling caramel sauce or maple syrup, or swirling lemon curd or jam into the buttercream for added flavour and visual appeal.
Vanilla Cupcakes Recipe

,
(Visited 2,454 times, 59 visits today)