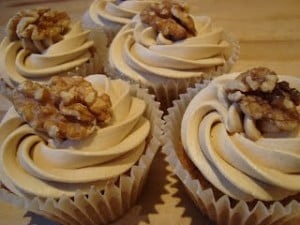 Prep time:

15 min

Cook time:

20 min

Serves:

Makes 12 cupcakes
Ingredients
For the cupcakes
175 g butter, softened
175 g unrefined golden caster sugar
3 large eggs
175 g self-raising flour
1 tsp baking powder
2 tsp instant coffee, such as Café direct Classics Medium Roast
65 g walnut pieces
For the topping
100 g icing sugar
4 tsp instant coffee, such asCafédirect Classics Medium Roast Instant Coffee
4 tbsp boiling water
12 walnut halves
Method
1. Preheat the oven to 170C/150C fan/gas 3. Line a 12-hole cupcake tin with paper cases.
2. Beat the butter and sugar till it is light, pale and fluffy. Crack the eggs into a bowl, break them up with a fork and add them a little at a time to the butter and sugar, beating well after each addition.
3. Mix the flour and baking powder together and fold into the butter and sugar gently with a large metal spoon. Dissolve 2tsp coffee granules in 1 tbsp boiling water, then stir into the cake.
4. Chop the walnuts and fold gently into the cake. Divide the mixture between the paper cases.
5. Bake for 15-20 minutes until golden and springy to the touch. Leave to cool.
6. Place the icing sugar in a bowl. Mix 2 tbsp boiling water with 4 tsp coffee granules. Stir into the icing sugar with the remaining boiling water and leave a minute. Lift the spoon out of the icing sideways; it should run off in thick ribbons. If not, add a little more water.
7. Spoon the icing over the cup cakes and top each one with a walnut half.
(Visited 2,143 times, 66 visits today)
Comments
comments