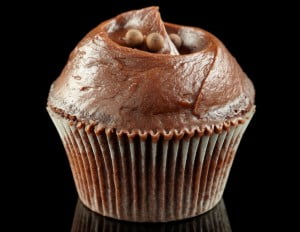 Prep time:

20 min

Cook time:

15 min

Serves:

Makes approx 12
Ingredients
   100g unsalted butter, softened
60g sugar
1 teaspoon vanilla essence
2 large free-range eggs
200g flour
1 teaspoon baking powder
100ml milk
150g cup cocoa powder
235ml boiling water
Chocolate icing:
150ml cup icing sugar mixture
150g butter, softened
120g chocolate, chopped
¼ cup thickened cream
Chocolate drops, sprinkles, buttons or raspberries to decorate
Method:
1. Preheat oven to 180°C. Line a 12-hole muffin tin with cupcake papers.
2. Combine flour and baking powder in a bowl and set aside for later. Mix cocoa and boiling water together until smooth and allow to completely cool.
3. In a mixing bowl, beat together the butter and sugar until they reach a creamy consistency then stir in the vanilla. Add one egg at a time and beat for one minute in between.
4. Add the flour and baking powder mixture and stir until combined. Add milk and cocoa mixture then beat well until smooth. Add the mixture to the bun cases and place in the oven to bake for 13-15 minutes. Remove and cool on a wire rack.
5. To make the icing, beat the butter and icing sugar. In a saucepan, bring the cream to a simmer and whisk in chocolate until smooth and shiny, allow to cool completely.
6. Once cooled whisk the chocolate mixture into the icing sugar and butter and ice each cupcake generously. Decorate with sprinkles, chocolate buttons, raspberries or whatever takes your fancy!
Chocolate Cupcakes

,
(Visited 839 times, 35 visits today)
Comments
comments