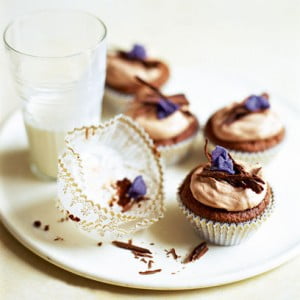 Prep time:

15 min

Cook time:

15 min

Serves:

Makes approx 12
Ingredients
For the cupcakes:
140g dark chocolate, chopped
85g salted butter, chopped
1 tbsp vanilla bean paste (or essence)
85g ground almonds
3 eggs, separated
85g caster sugar
For the icing:
300ml whipping cream
2 tbsp icing sugar
2 tbsp cocoa powder
Chocolate shavings and crystalised violets to decorate
White and gold cupcake holders
Method
1. Heat the oven to 180°C/350°F/gas mark 4. Put the chocolate and butter in a bowl set over a pan of simmering water. Avoid the bowl touching the water. When almost melted, remove from the heat, leave for a few minutes, then stir until smooth. Add the vanilla bean paste and fold in the almonds.
2. With electric beaters, whisk the egg whites until peaks form, then whisk in around half the sugar, until glossy.
3. In another largeish bowl, whisk the rest of the sugar with the yolks until thick and leaving a trail when the beaters are lifted. Add the chocolate mixture with a large metal spoon.
4. Gently fold in the whites without losing the volume, then spoon into cupcake cases and bake for 15 to 18 minutes.
5. To make the icing, put the cream in a large bowl and sift over the icing sugar, followed by the cocoa. Whisk until soft peaks form.
6. When the cakes are cool, make a swirl on the top of each one and add some chocolate shavings and crystalised violet or rose petals (available from supermarkets).
(Visited 305 times, 22 visits today)
Comments
comments