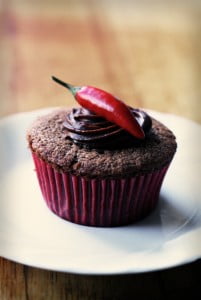 Prep time:

20 min

Cook time:

20 min

Serves:

Makes approx 15
Ingredients
For the batter:
150g unsalted butter, cubed
2tbsp instant coffee
200g 70% cocoa solids chocolate, broken into pieces
140g golden caster sugar
60g self-raising flour, sifted
5 eggs, separated
1/4 tsp salt
15 cupcake cases
For the icing:
65g white caster sugar
160g 55–70% cocoa solids
Chilli-flavoured chocolate,finely chopped
2 tbsp golden syrup
30g unsalted butter
15 red chillies
Method
1. Preheat the oven to 170ºC/340ºF/gas mark 3 1/2. Set a large heatproof bowl over a saucepan of very gently simmering water, making sure the base of the bowl does not touch the water. Dissolve the coffee in 4 tbsp of hot water. Add the coffee, chocolate, sugar and butter to the bowl and melt together. Cool a little, then add the flour and mix well until smooth. Tip in the egg yolks, one at a time, mixing between each addition.
2. Whisk the egg whites with the salt to stiff peaks. Using a large spoon or spatula, fold a big spoonful of egg whites into the chocolate mixture. Once combined, fold in the rest.
3. Place the cupcake cases into 2 x 12-hole cupcake tins. Divide the batter evenly between them and bake for 17–20 minutes, or until the cakes spring back to the touch. Don't worry if they crack in the oven; the icing will cover any fissures. Remove and cool on a wire rack.
4. Meanwhile, make the icing. In a heavy-based pan, gently heat together 125ml water, the sugar, chocolate and syrup and bring to the boil, stirring so it doesn't catch on the bottom of the pan. Stir constantly for about three minutes, or until thickened. Remove from the heat and stir in the butter.
5. Allow to cool, then spoon over the cupcakes. If the icing becomes too thick before you have finished coating the cakes, simply reheat it very gently. Place a chilli on each cake as you apply the icing, then leave to cool completely and set.
Tips
For chocolate-vanilla icing, use unflavoured dark chocolate and add 1 tsp vanilla extract with the butter.
For chocolate-mocha icing, use unflavoured dark chocolate and replace the 125ml water with strong coffee.
(Visited 474 times, 48 visits today)
Comments
comments