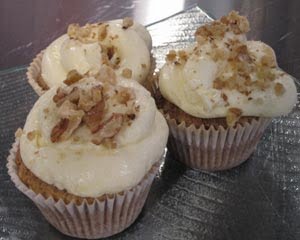 Prep time:

35 min

Cook time:

25 min

Serves:

12
Ingredients
For the cupcakes
130 g plain flour, or cake flour
1/2 tsp bicarbonate of soda
1/2 tsp baking powder
1 tsp ground cinnamon
215 g caster sugar
2 eggs
175 ml vegetable oil, or any other neutral oil
65 g walnuts, chopped, plus extra to decorate
165 g carrots, grated
For the frosting
170 g thick cream cheese
65 g butter
125 g icing sugar
1/2 lemon, finely grated zest only
3/4 tbsp soured cream
1/2 tsp vanilla extract
Method
1. For the cupcakes: preheat the oven to 180C/160C fan/gas 4 and line a cupcake pan or muffin tin with paper cases.
2. Sift together the flour, bicarbonate of soda, baking powder, cinnamon and ½ tsp salt and set aside.
3. In a large bowl, whisk together the sugar and eggs until thick and creamy. Slowly add the oil in a thin stream while whisking constantly. Fold in the dry ingredients, and once combined gently stir in the nuts and carrots.
4. Divide the batter evenly among the paper cups and bake for 20-25 minutes, or until a skewer inserted in the centre of one cupcake comes out clean. Place on a wire rack to cool.
5. For the frosting: in a large bowl, beat together the cream cheese, butter, and icing sugar until the mixture is smooth and soft. Stir in the lemon zest, soured cream and vanilla extract.
6. Pile the frosting into a piping bag and pipe it onto the cooled cupcakes. Decorate with the extra chopped walnuts before serving.
(Visited 913 times, 27 visits today)
Comments
comments