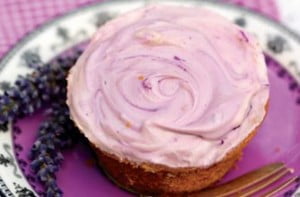 Prep time:

1 hr


Cook time:

20 min

Serves:

Makes approx 12
Ingredients
For the base:
12 digestive biscuits
110g / 4oz melted butter
1 dsrtsp demerara sugar
For the cake:
200g / 7oz cream cheese
2dstspn icing sugar
1dstspn lemon juice
110g / 4oz unsalted butter, room temperature
110g / 4oz caster sugar
2 large eggs
110g / 4oz self-raising flour
1tsp baking powder
1tsp vanilla
For the filling:
3tbsp blueberry jam
For the icing:
170g / 6oz unsalted butter
170g / 6oz cream cheese
500g / 1lb, 2oz icing sugar
Dot of purple food colouring paste
Method
1. Preheat the oven to 180°C/350°F/gas 4. Line a 12-hole nonstick muffin tray with paper muffin cases.
2. First make the base: Place the digestives in a plastic bag and bash them with a rolling pin until they resemble fine breadcrumbs.Put them in a bowl, stir in the demerara sugar, then the melted butter and mix well. Press firmly into the base of each paper case.
3. Whisk the cream cheese in a bowl with the lemon juice and sifted icing sugar until combined. Set aside.
4. To make the cake: Whisk the butter and sugar until fluffy. Add the eggs, followed by the vanilla, flour and baking powder. When thoroughly combined, stir in the cream cheese.
5. Add a generous dessertspoon of cake mixture onto the crumb base in each paper case and bake in the oven for 20 mins. Cool on a wire rack.
6. Remove the centre of each cake with an apple corer and fill with about a tsp of jam.
7. Cream together the butter and cheese for the icing and beat in the icing sugar.Add a dot of food colouring to make the icing a lilac colour. Spread a thin layer of icing over the top of each cake.
Blueberry Clouds Cupcakes

,
(Visited 305 times, 20 visits today)
Comments
comments