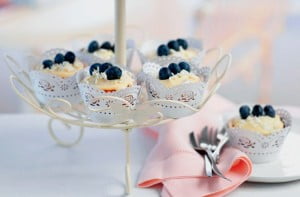 Prep time:

30 mins

Cook time:

15 mins

Serves:

Makes approx 12
Ingredients
140g (5oz) unsalted butter, softened
140g (5oz) caster sugar
Finely grated zest of 1 small lemon
4 large egg whites
115g (4 oz) blueberries
75g (3 oz) plain flour
115g (4 oz) ground almonds
White chocolate icing
175g (6 oz) white chocolate, chopped
4 tbsp double cream
Extra grated or shaved white chocolate and blueberries, to decorate
Method
1. To make the cupcakes, preheat the oven to 180ºC/350ºF/Gas Mark 4. Line a 12-cup muffin tray with paper cases.
2. Beat the butter and caster sugar together until creamy. Beat in the lemon zest. In a separate bowl, whisk the egg whites until standing in soft peaks. Dust the blueberries with a little of the flour.
3. Stir the blueberries into the creamed mixture with the rest of the flour and the almonds. Mix in a spoonful of the whisked egg whites to soften the mixture before gently folding in the rest with a large metal spoon.
4. Spoon the mixture into the paper cases and bake for 15 minutes until golden and just firm to the touch. Cool in the tin for 10 minutes before removing to a wire rack to cool completely.
5. To make the icing, put the chocolate and cream in a heatproof bowl and place over a pan of simmering water. Leave until the chocolate has melted, stirring until smooth. Remove the bowl from the pan and set aside in a cool place until the icing has thickened sufficiently to spread over the cupcakes, stirring from time to time.
6. Ice the cupcakes and decorate with grated white chocolate and blueberries.
Blueberry and White Chocolate Cupcakes

,
(Visited 721 times, 37 visits today)
Comments
comments