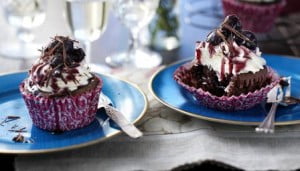 Less than 30 mins

preparation time
1 to 2 hours

cooking time
Makes 12
Ingredients
125g/4½oz butter, softened
175g/6oz caster sugar
2 free-range eggs
200g/7oz self-raising flour
2 tbsp cocoa powder
125ml/4fl oz milk
100g/3½oz dark chocolate (minimum 70% cocoa solids), melted, plus extra to serve
1 x 360g/12½oz jar black cherries in kirsch
½ tsp arrowroot or cornflour mixed with a little water to make a smooth paste
300ml/10fl oz double cream, lightly whipped
Preparation method
Preheat the oven to 170C/325F/Gas 3. Line a 12-hole muffin tray with paper cases.
Beat the butter and sugar together in a bowl until light and creamy. Gradually add the eggs, one at a time, until well combined. Sift in the flour and cocoa powder and mix until well combined. Fold in the milk and melted chocolate.
Spoon or pipe the mixture into the muffin cases and bake for 18-20 minutes, or until well risen and springy to the touch.
Remove the cakes from the tin and set aside to cool on a cooling rack.
Drain the cherries in a sieve collecting the kirsch in the bowl below. Pierce the cakes with a skewer and carefully pour about a teaspoon of the kirsch over each cake.
Heat the kirsch and arrowroot paste in a small saucepan until just boiling. Remove the pan from the heat and beat until thickened.
Using a small knife make a well in the top of each cake by removing a disk of cake
Pipe or spoon a swirl of cream onto the cakes, top with a few cherries and drizzle with the thickened kirsch. Just before serving, grate over some chocolate.
(Visited 575 times, 27 visits today)
Comments
comments