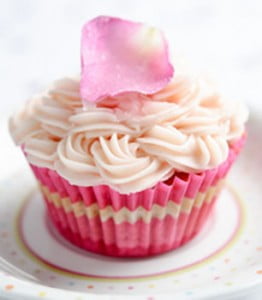 Prep time:

45 min

, plus drying time

Cook time:

20 min

Serves:

Makes approx 12
Ingredients
For the cupcakes:
175g caster sugar
175g unsalted butter
3 large eggs, separated
175g self raising flour
175g plain cooked (vacuum packed) beetroot, drained (hold a few drops of juice back to use as colouring) and pureed
1 tbsp vanilla extract
For the icing:
300g Icing sugar
150g unsalted butter, slightly softened
A few drops rose flower water, to taste
A few drops beetroot juice, to colour
For the crystallized rose petals:
3 pink roses, separated into petals
1 egg white
Caster sugar (a sprinkling)
Method
1. Make the crystallized rose petals the day before you want to serve the cupcakes. They will keep in an airtight box for a few weeks. Lay out a piece of silicon-coated baking paper on a tray. Pick through the petals and choose the 12 loveliest looking ones and lay them on the tray. Brush gently with egg white and sprinkle all over with caster sugar. Allow to dry in a warm place for eight hours before using.
2. When you are ready to make the cupcakes, preheat the oven to 180˚C/356˚F/gas mark 4.
3. Blend together the sugar and butter until light and creamy. Add the egg yolks, flour, pureed beetroot and vanilla and beat until smooth.
4. In a clean bowl whisk the egg whites until fairly stiff. Take a large spoon of egg white and beat into the cupcake mixture to loosen it a little. Then, using a large metal spoon fold the remaining egg whites gently through the mix, taking care not to over beat.
5. Spoon the mixture into 12 cupcake cases and bake in the oven for around 20 minutes, or until the cakes are firm to the touch. Remove and cool on a wire rack.
6.To make the icing, beat the icing sugar and butter together, either in a food mixer or by hand with a wooden spoon. Add a few drops of rose flower water to taste, and a few drops of beetroot juice to colour the icing.
7.Spread generously or pipe over the cooled cupcakes and top each with a rose petal.
(Visited 304 times, 30 visits today)
Comments
comments