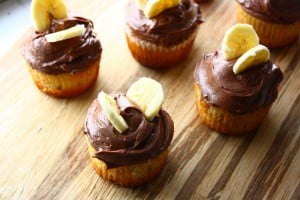 Prep time:

30 min

Cook time:

20 min

Serves:

Makes approx 24
Ingredients
For the cupcakes
250 g unsalted butter, soft
250 g caster sugar
4 eggs, room temperature
1 ripe banana, mashed to pulp
250 g self-raising flour
For the frosting
250 g unsalted butter, soft
500 g icing sugar
4 tbsp cocoa powder
Method
1. For the cupcakes: heat the oven to 170C/150C fan/gas 3. In a mixer, combine the butter and sugar. Once this is fluffy, add 4 eggs one by one.
2. Add the mashed banana and blend well. Add the flour and once this has all mixed up, spoon into cupcake cases and bake for 18 minutes.
3. Once they are firm but springy to the touch, remove from the oven and allow to cool.
4. For the frosting: in a bowl, combine the butter with the icing sugar and once this has mixed well and become fluffy, add the cocoa powder.
5. Blend for 3 minutes and then either spoon onto the cooled sponges or pipe with a nozzle and piping bag. Finish off with a dried banana chip.
Banana and Chocolate Cupcakes

,
(Visited 621 times, 21 visits today)
Comments
comments